Trends: 1954-2011

When : Vernissage: Thursday, May 5, 2016, 19:00 to 20:30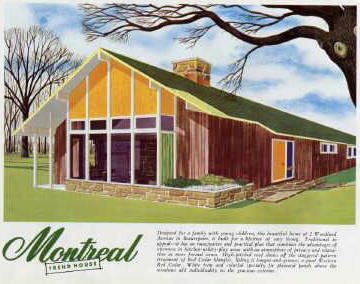 Exhibition: Monday, May 2 to Friday, May 27, 2016
Contact the library to insure that the Discovery Room will not be occupied at the time of your visit.
Where: Beaconsfield Library, Discovery Room
303 Beaconsfield Blvd, Beaconsfield, H9W 4A7
Everyone welcome. Free entrance.
Information: Contact us
This exhibition, sponsored in parts by the Société historique Beaurepaire-Beaconsfield Historical Society, has been produced by Alexandre Petitpas, student of DESS (Graduate Diploma) in Modern Architecture and Heritage at UQÀM. He prepared this exhibition as a research study during the summer 2015 semester, being interested in the Trend House program and especially in the Beaconsfield Trend House in Beaurepaire.
Precisely five years after the demolition of the Trend House that was located at the corner of Woodland Avenue and Lakeshore Road, Alexandre Petitpas presents: The Trend House Program, The Beaconsfield Trend House, Its Architect Philip P. Goodfellow, The Wood of the West and their Products, West Coast Modern Architecture, Typological Innovations, Technological Innovations and the Modern Interior of the '50s.
To produce this exhibition, he consulted the historical society's documentations and was able to meet with Michael Goodfellow, son of the architect of the Beaconsfield Trend House, Philip P. Goodfellow.