Robert Unwin Harwood, Seigneur of Vaudreuil : from Merchant to Visionary
Speaker: Michel Belisle

When: Thursday,

May 21, 2020

November 19, 2020, 7:30 p.m. til 9:00 p.m.

Where: In virtual mode
Lecture in English, followed by a bilingual question period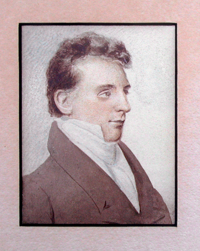 Robert Unwin Harwood was the spouse of Louise-Josephte de Lotbinière heiress of the Seigneurie of Vaudreuil. Robert Unwin is a rather fascinating character, a romantic Englishman who developed the Seigneurie of Vaudreuil during the troubled period of the Rebellion of 1837. Robert Unwin was quite a character, much loved by his French-speaking tenants or censitaires. He was able to attract the attention and sympathy of both his French Canadian and his English tenants, a rare case. I knew him through his grandson Henry de Lotbinière Harwood who introduced me to the English-speaking community of Hudson and helped me a lot in my career with his archives and his advice. For me, to speak of his great-grandfather is to pay tribute to one of the members of Quebec's English-speaking community who was committed to the flourishing of the French community in the region.

Michel Bélisle, author and lecturer, was born in Montréal. He studied Anthropology - Ethnology at Université de Montréal, and Design & Environment at UQAM. He worked as assistant-curator at McCord Museum, curator at Musée régional de Vaudreuil-Soulanges, curator at Trestler House in Vaudreuil-Dorion. He was curator for Special Exhibitions:
2007-2008 Vaudreuil-Dorion Public Library "Words and Images from our people";
2004-2005 Trestler House, Historical Interpretation, in collaboration with artist and environmentalist Frederic Back
1999Trestler House, "A certain way of life"
He wrote several books and brochures on Montreal West-Island and Vaudreuil regions.
================================================