Conférences passées
Conférence de Ray Baillie - Série les écossais à Beaconsfield
"The Scots influence on the Province of Québec"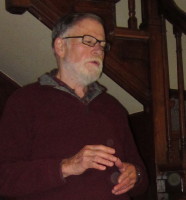 Conférencier: Ray Baillie, auteur de "Scottish Imprint in Quebec"

Quand : Jeudi 15 septembre 2011, de 19h30 à 21h
Lieu :Édifice Centennial Hall, 288 Beaconsfield Blvd, Beaconsfield, H9W 4A4
Son livre "Scottish Imprint in Quebec" sera en vente lors de cette conférence.
Conférence en anglais suivie d'une période de questions bilingue.
Conférences 2011 - Série les écossais à Beaconsfield
En 2011

, le thème choisi pour nos conférences est "Les écossais à Beaconsfield" afin d'approfondir ce sujet avec la collaboration de plusieurs conférenciers.
October 2010: Pat Coombes, on Beaconsfield Golf Club, meeting held at the Beaconsfield Golf Club

November 18, 2010: Clifford Lincoln, on "Can we as individual change our world?"
January 20, 2011: Alain Ménard, on Vineyards in Québec (1860-1900), including the one in Beaconsfield
February 17, 2011: Virginia Bell, on the 50 years of the Briarwood Church in Beaconsfield
April 21, 2011: Allison Irwin, on NOVA Thrift Shops, describing the struggles and the chances they took when opening new stores (4 total) and also innovative ways of what they "do" with unusual items.
May 2011: Roy Wright, on the Kingdoms of the St. Lawrence Lawrence visited by Jacques Cartier… and their descendents"; from the writings of Jacques Cartier and the Sieur de Roberval, the history and culture of the indigenous Saint Lawrence Iroquoians, Mohawks and Hurons.
October 2009 - Elizabeth Abbott, "Sir John Abbott"
November 2009 - Michel Forest, "Frederick Coburn"
January 2010 - Adrian Willison, "Kensington Gardens: World Class Architecture in Beaurepaire"

Adrian Willison talked about the Beaconsfield housing development built by his grandfather Darbyson.
February 2010 - Valerie Verity, "The role of the Métisse Woman" Valerie came down from Pointe Fortune to speak to us about Magdeleine Poitras the wife of John McDonnell who built the home that is currently known a the McDonnell-Williamson house in Pointe Fortune. They had a total of 12 children, the first six of whom were born out on the land while McDonnell was involved in the western fur trade. A very romantic story.
March 2010 - Pauline Faguy-Girard - Based on her years of research in our municipal files, Pauline spoke very informatively about Beaconsfield's development.
April 2010 - Elizabeth Abbott - addressed the society on Reverend Joseph Abbott, who was the author of 'The Emigrant', published in 1842.
May 20, 2010 - Yvonne Cousineau, "Guenet: The Man, The Legend" at Centennial Hall


Coinciding with the Beaconsfield 100 celebrations our speaker will reveal her findings about Jean Guenet, who was a very powerful, influential seventeenth century official, the procureur du roi, and the first landowner in Beaurepaire.
<< Début < Précédent 11 12 13 14 15

16

17 18 Suivant > Fin >>